John Evelyn, recorded in his Pomona of 1670, that he had some years earlier asked whether those in other European countries could send him scions of fruit they had found to produce excellent perry. In March 1658 Dr John Pell, at that time ambassador to the Swiss Cantons, suggested the Turgovian pear.
Can the Turgovian Pear or its progeny be recognised in the perry varieties of today? To discover this, it is first necessary to determine whether the Turgovian pear can be identified as existing anywhere? The most likely place would be in its homeland – the canton of Turgovia – the Italian name for a region in Switzerland bordering on Lake Constance, an area famed for its orchards, also known as Thurgau (in German), and Thurgovie (in French).
The Swiss Department of Agriculture kindly supplied details of varieties it might be. They suggested it could be one of four pears
Turgauerbirne
Thurgauer Weinbirne
Thurgauer
Sülibirne, also known as Thurgauer Mostbirne
and from Germany comes another suggestion
Schweizer Wasserbirne also known as Thurgibirne
Do any of these pears match the Turgovian fruit described by John Pell in 1658, as being small and ill-tasting?
Schweizer Wasserbirne is edible – quite pleasant when fully ripe, and is also large, so it can immediately be discounted.
| | | |
| --- | --- | --- |
| Thurgauer Weinbirne | Thurgauer | Turgauerbirne |

Sülibirne
Sülibirne

The fruit is small, conical and rust spotted. The skin is green-yellow and becomes dark yellow with increasing ripeness. The flesh is yellowish-white, coarse-grained, juicy, rich in sugar and acid, and very tart.
Pell also explained that they make great store of perry, from the very small pears, which were hard and full of very unpleasant juice, so that no man will eat one of the raw. He found that the Turgo perry is of two sorts, the one boiled to a syrup, so that it became almost as thick, and as sweet as honey, he other un-boiled and clear. Later he was sent a bottle whose colour smell and taste enticed me to pronounce it to be as good a muscatel as ever I had tasted. This he was told was Turgo wine made from boiling the juice until it had reduced by two thirds, then kept in barrels for 10 years, being periodically topped up with fresh juice. The process is similar to that used for Zurich wine, which some kept in huge vessels many years.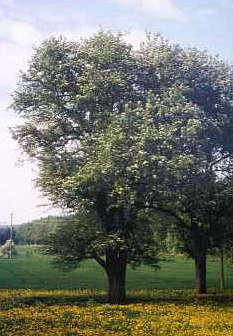 The Turgauerbirne pear would appear to be too large to match the description of Pell's fruit, but both the Thurgauer Weinbirne and the Thurgauer (apparently genetically different) might fit the description – the weinbirne presumably being the one most suitable for perry.
The Sülibirne pear is also a possible contender, being described as well suited for fruit brandy, giving an excellent and long-lasting wine. Connoisseurs also call it the "Queen of the cider pears". The landscape-shaping value of this magnificent tree is also appreciated in Switzerland, with new plantings encouraged in suitable locations.
The landscape value of our own perry pear trees is only slowly being recognised in the UK.