A number of publications are available from the National Perry Pear Centre. All prices include postage to UK addresses. Please contact us for overseas posting.
Pears of Gloucestershire and Perry Pears of the Three Counties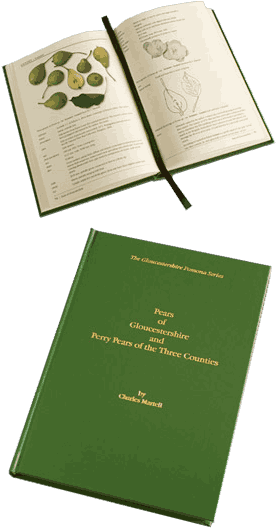 by Charles Martell (2013)
Volume 1 of the Gloucestershire Pomona series
ISBN: 978-0-9927394-0-9
Softback £23.50    Hardback sold out.
Description and colour photographs of the varieties in the National collection (209pp + index)
This book is a by-product of the hunt to track down and propagate the many varieties of 'lost' perry pears which are now to be found growing in the National Perry Pear Collections at Hartpury and Malvern. After many years of painstaking research, Charles has published the most up-to-date and complete reference book on the perry pears of the Three Counties, the main perry growing district of Britain. It includes pictures, drawings and full botanical descriptions of all the varieties which are still known to exist. It also includes information on many that are thought to be lost or extinct, together with alternative names and history of each variety.Buy Now
Native Apples of Gloucestershire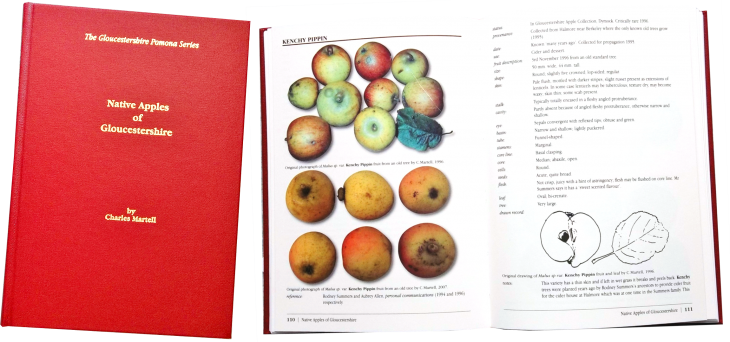 by Charles Martell (2014)
Volume 3 of the Gloucestershire Pomona series
ISBN: 978-0-9927394-1-6
Hardback £43.50
Softback £23.50
Description and colour photographs of the varieties in the Gloucestershire collection (242pp + index)Buy Now
Native Plums (Prunus) of Gloucestershire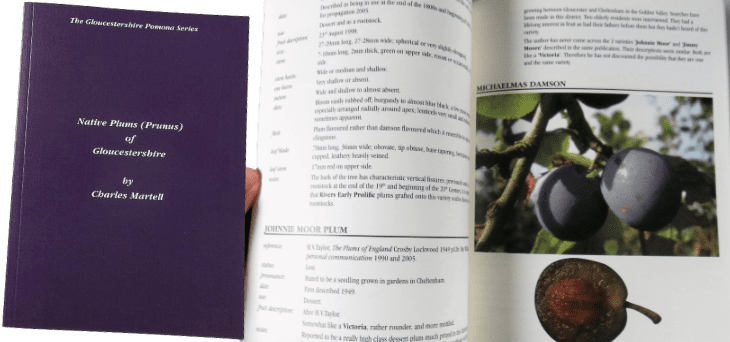 by Charles Martell (2018)
Volume 4 of the Gloucestershire Pomona series
ISBN: 978-0-9927394-4-7
Hardback £27.50
Softback £17.50
Description and colour photographs of the varieties in the Gloucestershire collection (242pp + index)Buy Now
Memories of Life as an Itinerant
Orchards – Those Other Industries
Hartpury Orchard Trail leaflet Perry Pear leaflet